O, yogurt bites, you are so delicious.
Freeze-dried yogurt
Somewhat nutritious (?)
You calm Evie down
When she'll eat nothing else
The world is a dark place
When you are not stocked on the shelf
The flavor doesn't matter
Strawberry, tropical, and peach all cause a clatter
God forbid we should ever run out
Evie would surely scream and shout
Without you I wouldn't be a happy mother or wife
Almost every day you save Mommy's life
Yes, I am so lame I just wrote a crappy poem to freeze-dried yogurt. Seriously though, these things are a life saver. Evie is usually a pretty good eater, but I always have these on hand for days when she refuses everything else. This most often happens at restaurants (of course) or in the morning when I'm in a hurry to get to work and she won't eat her usual breakfast (fruit, cereal, or real yogurt).
Evie likes the Gerber brand and the Up & Up (Target) brand too. I like that they are not messy and they can be carried anywhere.
I have to hide them in the deepest recesses of the diaper bag when we go out because otherwise, if Evie sees the packaging, she throws a fit if I don't give them to her. I will admit that I kind of like them too...even though it's a little strange how they melt in your mouth. Evie and I may or may not have finished an entire bag in one sitting...ok, fine, we did...on several one occasion....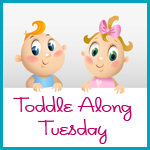 This post was written as part of the Toddle Along Tuesday blog hop. This week's topic is "Your Favorite Thing." Head over to Growing up Geeky to link up!