This week was SUPER hectic at our house...late meetings for both me or M depending on the night, and the end of the semester for me, which is always crazy busy. We did manage to have a few laughs in the meantime though. :)
In no particular order...
- Evie has started saying "good" when you ask her how she is doing or how her day was, etc. M figured out that she'll say good to any question that starts with the word "how." So, he has spent the week trying to come up with goofy questions to ask her so that she'll answer "good." It's cute to watch!!
- Evie loves to try to dress herself. She is INCREDIBLY bad at it. For the most part, she just manages to get the shirt over her head so that her face is peeking out of the head hole. This morning, M was eating a bagel, and he tried to share it with Evie. The shirt was covering her mouth, but she tried to push the bagel piece in her mouth through the shirt. She just ended up with a mouthful of shirt. We were both laughing pretty hard.
Example of Evie's excellent dressing skills
- M won me over by making me laugh, and he continues to do it pretty much every day. The other night "Footloose" was on TV. Of course, I had to watch it even though I've seen it about a million times. (Who doesn't love Kevin Bacon, seriously?!?!?!!?) It was the scene where they play chicken on the tractors, and M, being the farm boy that he is, said, "He'd be able to go a lot faster if he unhitched the corn picker." He said it so matter-of-factly, I just about died laughing. Only he would think of that!
- Evie has figured out that she can sit in "big people" chairs, and now that all she wants to do. She likes to sit in our glider rocker in the living room with a pile of books on lap and her baby doll with her. It's so cute to watch her "reading" to her baby.
- Last weekend in the Dells, M's company paid for a fancy dinner for everyone who was there. Several of M's coworkers had brought their families, so there were quite a few kids there. However, there were also quite a few people that did not have young kids, so it was an interesting mix. The families with young kids designated some kids tables right away when we arrived at the restaurant. Immediately, all of the moms moved the candles to other tables, moved the silverware to a big pile where none of the kids could reach it, and rearranged the chairs to maximize space for the high chairs. I thought that it was funny how quickly we all reacted, and it was so apparent how much life has changed in the past 18 months....we used to be the couple that headed straight for the bar.
Hopefully next week will be a little less crazy and we'll be able to enjoy a little more time as a family.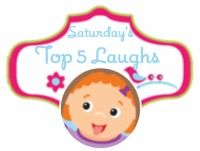 Linking up my top 5 laughs with Melissa over at The Mommyhood Chronicles. Click on the link if you'd like to link up too!!