So, I've written
before
that I was scared to death of having a daughter. I was so sure that I wanted a boy so that I didn't have to deal with all of the "girl" stuff (friend issues, periods, boyfriend issues, Barbie dolls, etc.) Obviously, now that I have a daughter, I've gotten over it for the most part. All of that girly stuff still scares the bejesus out of me, but we'll get through it.
One of the major perks about having a girl is all of the absolutely amazingly cute clothing out there for little girls. I frequent Target and Kohl's (mostly for the prices), but I have also been known to make a pretty big dent at Old Navy. Here are a few pictures of my favorite of Evie's outfits from the past 18 months. Captions include the brand/store where they are from.
Dress from Kohl's
Dress from Target
Dress from Target
I realized that I don't have many good pictures of some of my favorite outfits from the past few months. I've been really into leggings and boots.
Boot from Target, Shirt and pants from Kohl's
This is the best picture that I have of "the boots." (She likes to try to climb into the fridge whenever it's open.)
I enjoy dressing my daughter up much more that I thought I would while I was pregnant. I was horrified by all of the pink clothing back then, and the boots probably would have made me feel a little vomit-y. I'm not a super girly-girl...but oh, how the whole world changes once you have a child!! ;)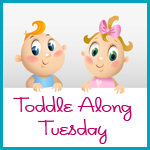 Want to link up your cute/favorite outfits?? Link up with Mama G at Growing up Geeky!