Mi hijita,
As each milestone passes, I know that you are one step closer to being your own independent person. I try not to mourn the passing of each stage, and I also try not to hope for unpleasant stages to pass either. I try to enjoy each moment as it happens.
As much as I attempt that, whenever I look at you, I can't help but think about the future...
Could you be a piano prodigy?
Could you be the star of your high school basketball team? (If that happens, you DEFINITELY didn't inherit those genes from your mama, trust me!!)
Could you find the cure for some horrible disease?
Could you be a great friend/mother/wife?
Of course I've dreamed of what you'll be, but what I want most for you is happiness
...whatever that looks like for you.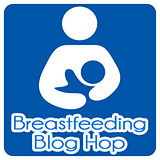 This post was written as part of the Breastfeeding Blog Hop...
which is open to ALL mamas
and has nothing to do with breastfeeding this week!!!
If you'd like to link up, go to
Life with Levi
and add your blog to list!!